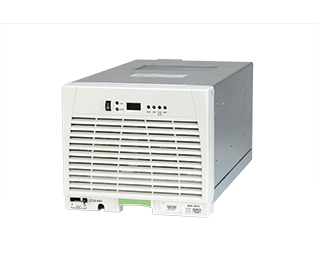 Benefits
The ability to fit two units in a single shelf provides high power density and compatibility with previous-generation systems.
Efficient – peak efficiency of 95% occurs at 50% load matching sweet spots with customer use patterns.
Operates over a broad temperature range (0C through +50C).
Fail-safe performance – hot insertion capabilities allow for rectifier replacement without system shutdown; soft start and inrush current protection prevent nuisance tripping of upstream breakers.
Extended service life – parallel operation with automatic load sharing helps ensure that the units are not unduly stressed.
| model | input range v | vout | iout | efficiency |
| --- | --- | --- | --- | --- |
| 595LTA | 320-530V | 42-58V | 220A | 95% |
| 595LTB | 176-275V | 42-58V | 220A | 95% |